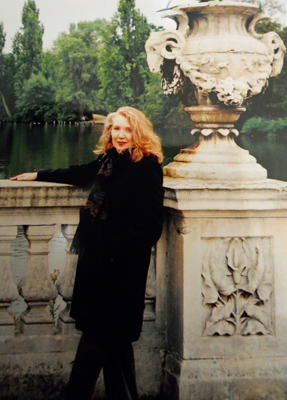 Christine M. Nauman is a professional artist working in oil on canvas for forty years. Born in 1954 and raised in Chatham, New Jersey, she demonstrated natural talent at a young age and began art lessons in charcoal and pastel in 1963. Two years later, she exhibited landscape and still life compositions on paper in a northeastern fine art gallery with adult artists. Receiving awards, accolades and acquisitions beginning at the age of 11, encouraged her to create and develop her art. In 1966, Nauman began visiting art museums in NYC. Favoring oil paintings created centuries earlier, she transitioned to the oil medium, and private lessons continued until 1970 while living in Chatham.

Nauman works in oil using a tonal color palette and applies multiple layers of paint with delicate brush strokes.
Her tranquil autumn and winter landscapes with an emphasis on the changing light of day, are classical in design. Bucolic landscapes portraying the spring and summer seasons are painted with an impressionistic palette and thickly applied oils are abundantly vivid with colorful flowers. Still life paintings are staged in her studio during the winter months and compared to works of the 16th century Dutch Masters by collectors as to the darkened background and realistic details.
Although her art remains distinctive to her individual style, Nauman's paintings have been compared by patrons to Corot, Murphy and Innes for her autumn and winter scenes. Pissarro, Sisley, Van Gogh, Twachtman and Hassam for the spring and summer scenes. While many of her paintings are acquired for a particular setting in the homes of collectors, a few were purchased to notably hang in heirloom collections with artists
from the 17th - 19th century; J.M.W. Turner, Jean-Baptiste-Camille Corot, Camille Pissarro, Monet and Childe Hassam.
From 1982 to 1986 Nauman lived in Tokyo and traveled throughout Japan and other cities in the Far East; Hong Kong, Seoul, Singapore, Bangkok, Beijing and Shanghai. While experiencing the culture and traditions during those four years, she observed that there is infinite beauty in simplicity. She applied that philosophy into her paintings by eliminating inessential details. Focused on light reflections in nature, an overall ethereal effect appeared within Nauman's autumn and winter landscapes.

During those four years in the Far East, and after her return to the Northeast, travel to Europe continued to enrich her artistic vision exploring museums and historic sites in and around London, Paris, Barcolona, Milan, Florence and Rome. Side trips to the countryside in England and France, she chronicled scenes and light/color changes throughout the day. Sometimes hastened, photographs were required in order to create picturesque landscape
s in her studio.
Excluding years of self study, training is as follows:
1963-1966 - Still life, figurative and landscape in charcoal and pastel - Chatham, New Jersey
1966-1970 - Still life and landscape in oil - Chatham, New Jersey
1973-1975 - Liberal Arts - Centenary College for Women - Hackettstown, New Jersey
1979-1981 - Methods of the Masters in oil - Houston, Texas
1983-1986 - The Ichiyo School of Floral Art - Tokyo, Japan
1984-1986 - Life Drawing in charcoal - Tokyo, Japan
1986-1989 - Life Drawing in charcoal - New Jersey Center of Fine Art - Summit, New Jersey
As of 2021, Christine M. Nauman's original oil paintings are in over 1600 art collections. Patrons often remain in contact with her around the globe, and continue to add onto their collections. Additional paintings of hers are acquired through fine art galleries.